Welcome to Computer Science
There has never been a better time to become qualified in Computer Science - the number of jobs available and the salary levels for graduates continue to rise year by year.
Our focus has always been on great teaching informed by great research, and now that we're in the Owheo building we have a single location for our labs, tutorials and research activities, and state of the art facilities.
Our graduates find that a multitude of professions are available to them - in the legal, financial and business fields through to games development, software engineering and computer graphics.
Open the door to your future - explore our web pages to learn more !
Quick Links
Computer Science : What is it ?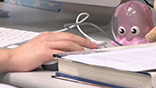 See an introduction to Computer Science with Associate Professor Brendan McCane.
News
Robot club student going to Space Camp
Dept. Robot Club member Ailsa Carroll is going to the International Space Camp
...Read More
Department robot club member Ailsa Carroll (16) has been selected as only one of two NZ school pupils to attend the International Space Camp in the USA. Space camp includes astronaut training and using the Space Shuttle simulator.
From the ODT: "Ailsa was selected ahead of thousands of other pupils around the world because of her excellent academic results and her involvement in aeronautics (flying aircraft on computer flight simulators), robotics and computer programming".
CS wrestler in the news
Computer Science honours student Jess Todd is also a champion wrestler
...Read More
Computer Science honours student Jess Todd holds a 'queen of the mat' title and is preparing for the New Zealand grappling and wrestling championships, to be held in Dunedin this weekend. She also hopes to compete in the Commonwealth Games next year.