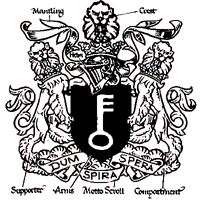 The Knott Coat of Arms
BLAZEN OF ARMS:
Sable (Black) a Key erect in pale (Light Colour)... [Or, between two palets erminois]
Translation: The background colour Sable (Black) denotes Constancy. The Key is borne as a emblem of Guardianship and Dominion.
CREST:
A Lion's head erased gules (Red)
Translation: The Lion represents Generosity, Courage and a foe to fear.
MOTTO: Dum Spira Spera ("While I Breathe I Hope")
Origin of the surname "Knott"
The English surname Knott can be patronymic in origin; that is, derived from the first name of a father. In this case it is derived from Old Norse personal name Knutr and Old Swedish name Knut. The personal name Knut (Canute) was still in use in the thirteenth century in England. It is derived from the Old Norse word, Knot, and was used to describe a thickset person. Early instances of the name include a reference to Canut in the Doomsday Book of 1086 and Randulfus Filus Cnut in the Pipe Rolls for Devenshire in 1191. John Knotte appears in the Subsidy Rolls for Sussex in 1296.

The name can be also be of local origin, that is, derived from the place where a man once lived or held land. In this case it is derived from the Old English word "knot" and denotes (a dweller at) the summit of a rocky hill as at Knott End, Lancaster. However it is rarely of local origin.