Accommodation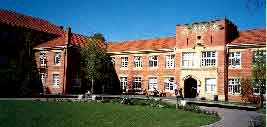 Bed and breakfast accommodation has been secured for conference attendees at two charming halls of residence on the University campus: Selwyn College and St Margaret's College, both only 1-3 minutes stroll from the conference venue. All are single rooms with shared bathroom and toilet facilities. You will be allocated a room at one of these two colleges. The cost is NZ$55 (including GST) per person per night. You can book a room when you complete the on-line registration form from September onwards. There are a limited number of double rooms, some with their own ensuite bathroom, available on application.
From the airport you are advised to catch the door to door Shuttle into town which costs NZ$15 per person. A single taxi will cost a total of NZ$60 for a maximum of 4 passengers.
Download location map (
576KB)
Street map of area from the City of Dunedin website.
St Margaret's College
333 Leith Street, Dunedin
Tel: +64 3 479 5540 Fax: +64 3 479 5541
Selwyn College
560 Castle St, Dunedin
Tel: +64 3 477 3326 Fax: +64 3 477 9926
---
Additional accommodation
There is a large selection of accommodation in Dunedin, in particular near the University campus. All accommodation listed below is within 15 minutes walking distance from the campus unless otherwise indicated.
You are advised to book motels well in advance. Motels in Dunedin, especially near the city, are often booked up one to two months ahead. Note that Graduation Day is on the 3rd of December so many motels are already fully booked over that weekend.
Motels
More motels can be found on
AA Travel Guide
and
Jasons Accommodation Guide
Backpackers
Hotels
A list of hotels can be found on NZ Tourism Online
Bed and Breakfast
For something a bit different why not try one of our many wonderful bed and breakfast houses listed on Destination-NZ.com. Many of these are not in walking distance from the conference venue, but some of their locations are set in beautiful grounds and with spectacular views of the city.