Welcome reception
There will be an eve of conference post-dinner reception 8.00 - 9.00pm on 2 December in University College.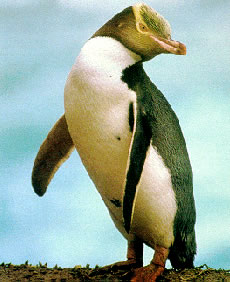 Yellow-eyed penguin
Excursion
We plan an outing on the afternoon of Wednesday 5 December to Nature's Wonders on the Otago Peninsula. Apart from the magnificent scenery en route there is an excellent chance of seeing the rare yellow-eyed penguin, sea-lions and the southern fur seal. The excursion will cost $60 per person (which includes transportation).
Conference dinner
The conference dinner will take place on the same day at the Glenfalloch restaurant. The price of dinner is included in the registration; for accompanying persons it will be $50 each.