Places to visit
Visiting Central Otago, Southern Lakes, Fiordland, the West Coast and Southland
Visiting the lower half of the South Island is a must for any visitor to Dunedin. The A To Z Travel Directory has been especially prepared to cater for the intending visitor to the southern half of New Zealand's South Island, including Dunedin, Invercargill and the surrounding Coastal Otago and Southland regions, Queenstown, Fiordland and the Southern Lakes areas.
Queenstown
The most popular destination in New Zealand is Queenstown, a stunningly beautiful alpine resort, which is also renowned for being the Adventure Capital of the world. Activities can be found in all forms, from the extreme to relaxed exploration. Here you can bungy jump, jet boat, raft, gold pan, hike, horse ride, parapente, 4WD, mountain bike, rock climb, follow a wine trail, join a lake cruise or scenic flight, water ski, yacht, ice skate, and play golf.
Wanaka
Wanaka is located on the southern shores of Lake Wanaka, in west Otago, and is an hours drive from Queenstown. It is sheltered by the Southern Alps and close to the Mount Aspiring National Park. While the pace of life here is far more sedate and less hurried than in Queenstown, Wanaka features many of the same high adrenalin activities and adventures.
Fiordland
Fiordland National Park lies at the South West of the South Island of New Zealand. 1.2 million hectares in size, Fiordland is the largest National Park in New Zealand. Its landscape is typically wild and mountainous and serves as a breathtaking backdrop to some of the world's most famous walking tracks: the Milford, Routeburn, Hollyford and Kepler tracks. The resort town of Te Anau, at the edge of Lake Te Anau, is the gateway to Fiordland and is the start of the road which leads to Milford Sound.
West Coast
Glacier country! Much of the West Coast is comprised of the Westland and Mount Aspiring National Parks. The region extends from the Southern Alps to the remote beaches of the West Coast. The lush native rainforests are a product of the coast's high rainfall, and the many walking tracks through them offer superb alpine views often reflected in mirror lakes. The most spectacular attractions are the magnificent Fox and Franz Josef Glaciers.
The Catlins
Situated on the south east coast of New Zealand, the Catlins are a major highlight of the Southern Scenic Route (SH92). The Catlins is the least commercialised tourist region. The coastal wildlife is rich with many shore and seabirds, penguins, seals, sea lions and sea elephants. The Hoiho (yellow eyed penguin) and the rare Hectors Dolphins are all found in the Catlins.
---
Package tours around the South Island
A V.I.P. International Travel representative will be present at the conference venue daily to arrange sight-seeing trips during ACSW, for attendees, partners and families. See below for their South Island package tour options.


VIP TRAVEL
63 Hanover St, Dunedin

Contact Information
Telephone: +64 3 477 0443
Fax: +64 3 477 0179
Freephone: 0800 770 443
Email: book@vip-travel.co.nz
Postal: P.O. Box 5248, Dunedin, New Zealand
---
VIP TRAVEL'S SOUTH ISLAND TOUR OPTIONS
Australasian Computer Science Week
18 - 22 January 2004
Thinking of adding a relaxing holiday after the Conference? Why not travel through to Queenstown, only a 3 hour drive away, or let V.I.P. arrange the trip for you.
QUEENSTOWN
Between the deep waters of Lake Wakatipu and the rugged, snow topped peaks of the Southern alps lies Queenstown, New ZealandÝs best-known destination. The resortÝs appeal lies in its unique mix of picture postcard views, endless array of attractions and over flowing hospitality. Choose from an endless supply of attractions or activities on offer:
Shotover Jet
Bungy Jumping
Wine Trail
Half Day Arrowtown Trip
Skyline Gondola & Dinner
Earnslaw Cruise (Walter Peak High Country Farm Excursion available)
Dart River Half Day Jet Boat
Dart River Rafting
Skydiving
Fishing Half Day Tours
Kiwi & Birdlife Park
FIORDLAND - minimum 2 days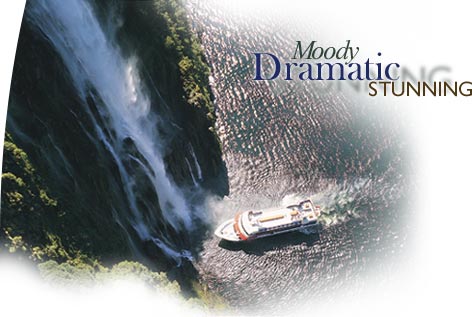 Some of the most wild and dramatic scenery in New Zealand is found in Fiordland. Fiordland National Park is one of the largest in the world and is designated as a World Heritage area.
Based in Te Anau or Queenstown, there is a wide range of options available:
TE ANAU GLOWWORM CAVES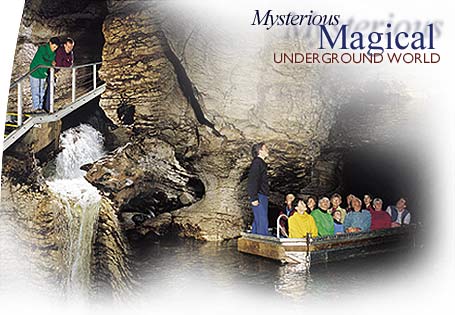 Evening Departures
Duration: 2 hours 30 mins
Price: NZ$44.00
Explore a mysterious underground world of sculpted rock and rushing water, before drifting in silent darkness beneath the luminous shimmer of thousands of glowworms.
MILFORD SOUND SCENIC/NATURE CRUISES
(Underwater Observatory option available on selected tours)
Coach/Cruise/Coach: Depart Te Anau - duration 8 hours 30 mins NZ$110.00
Depart Queenstown ˝ duration 12 hours 30 mins NZ$170.00
Fly/Cruise/Fly: Depart Queenstown ˝ duration 4 hours approx. NZ$285.00
DOUBTFUL SOUND DAY EXCURSIONS
Coach/Cruise/Coach: Depart Te Anau - duration 9 hours 30 mins NZ$198.00
Depart Queenstown ˝ duration 12 hours 30 mins NZ$245.00
DUNEDIN ˝ QUEENSTOWN/ TE ANAU TRANSPORT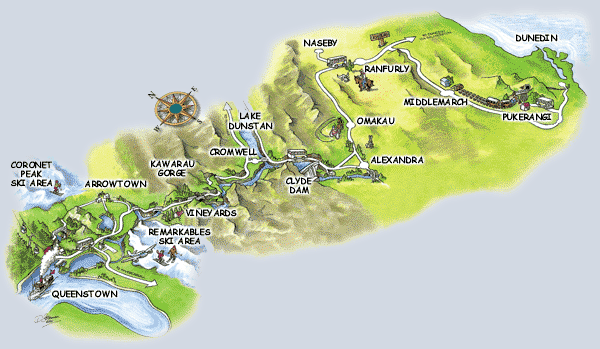 TRACK & TRAIL
Time: 12.30pm
Duration: 6 Hours
Price: NZ$110.00
Enjoy a 2 hour spectacular train journey between Dunedin & Pukerangi (ýthe hill of the heavensţ) before joining your coach for your onward journey to Queenstown. Highlights include the beautiful Kawarau Gorge, Cromwell Fruit & Wine region, Clyde Dam, High Country Farming District.
INTERCITY COACH
Departs: Intercity Coach Terminal
Time: 1.55pm
Duration: 4 hours 30 minutes
Dunedin to Queenstown
Price: NZ$29.00 one way
Dunedin to Te Anau
Price: NZ$61.00 one way
CATCH A BUS
Departs: Door to door service
Time: 8.30am
Duration: 4 hours 30 minutes
Dunedin to Queenstown
Price: NZ$30.00 one way
Dunedin to Te Anau
Price: NZ$43.00 one way
Rental Cars are also available upon request.
SOUTHLAND TOURS
CATLINS COASTER
Time: 7.30am approx
Duration: 11 Hours
Price: NZ$125.00
The Catlins - get out amongst it in a full day of wilderness, wildlife and walks, exploring beautiful desolate beaches, lush native bush, stunning waterfalls and a petrified forest over 160 million years old. The Coaster tours from Dunedin to Invercargill direct. Included is a visit to the Invercargill Museum and a picnic lunch. The Coaster then returns to Dunedin via the scenic Catlins coastal route.
STEWART ISLAND - minimum 2 days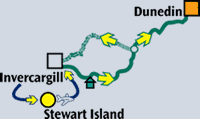 Time: 7.30am
Duration: minimum 2 days
Price: NZ$265.00 - Includes return flights (Invercargill ˝ Stewart Island)
Visit New Zealand's third island and home to the kiwi. With only 12 miles (20 kilometres) of road on the island, walking is the best way to explore. The island is covered in native vegetation and fringed with bays and sandy beaches. With so much forest, Stewart Island is a haven for native birdlife: kiwis, sooty shearwaters, wekas and the rare kaka, a native parrot. There are plenty of well maintained tracks which lead through beautiful bush to places of scenic or historic interest, and to lookouts with spectacular views.
CATLINS COASTER FARMSTAY - minimum 2 days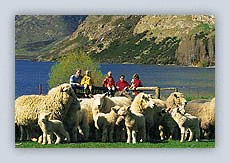 Time: 7.30am
Duration: minimum 2 days
Price: NZ$235.00
Real southern hospitality with a traditional farmstay. Dinner bed & breakfast included as is the farm activity of the day!
Check out the VIP web site for more information on touring and New Zealand
http://www.vip-travel.co.nz/index.htm
All tours are subject to a booking fee of NZ$10.00 per person.
Please refer to VIP International Travel terms & conditions.
---