Travel details
| Time zone | Getting here | Passport to NZ | Money matters | Electricity | Medical and emergency | Road Rules | Petrol | Tipping |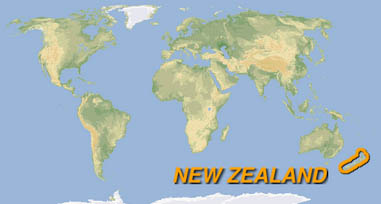 Time zone
New Zealand is 12 hours ahead of GMT (Greenwich Mean Time). In summer New Zealand uses 'daylight saving', with clocks put forward one hour to GMT+13. Daylight saving begins on the first Sunday in October and ends on the third Sunday of the following March, when clocks are put back to GMT+12. Click on the World Time Server to get the time in New Zealand now!

| Time zone | Getting here | Passport to NZ | Money matters | Electricity | Medical and emergency | Road Rules | Petrol | Tipping | Back to the top |
---
Getting here
Dunedin Airport is located on the Taieri Plain, 30 minutes drive from Dunedin's centre via State Highway One. There are daily flights on Air New Zealand to and from all major and provincial New Zealand airports.

If you are coming in from overseas and can choose to land on any international airports, choose Christchurch as it is the closest one to Dunedin. It takes 50 minutes to fly to Dunedin from Christchurch. Self-drive hire cars are available at the airport and it takes about 4 hours to drive to Dunedin. Alternatively, you can travel by bus and train. See below for details.

Travellers from Australia might like to consider Freedom Air which offers a limited number of direct flights from Sydney, Melbourne and Brisbane to Dunedin.

Departure tax on international flights is NZ$25.
To and from Dunedin Airport
It is very easy to get to the city from the airport. There are a number of bus, shuttle and taxi links with the city. When you collect your luggage and leave the terminal you will find a number of taxis and shuttles waiting outside.

If there are only one or two of you then the best option is to catch a shuttle van. It costs NZ$15-$20 per person and they will drop you off at your stated destination. For three or more people travelling together, you might find it easier and just as cheap to take a taxi - but ask for a quote first!

Dunedin Taxis offers the following fares from the airport to the city:

Shuttle $15pp
Taxi (max 4 passengers) approx. $50
Van (max 9 passengers) approx. $60-$65 *you need to book this one in advance by calling free phone 0800 50 50 10.
| Time zone | Getting here | Passport to NZ | Money matters | Electricity | Medical and emergency | Road Rules | Petrol | Tipping | Back to the top |
---
Passport to New Zealand
All visitors to New Zealand must carry a passport that is valid for at least three months beyond the date you intend to leave the country.
Visa Exemptions
You do not need a visa or permit to visit New Zealand if you are:
A New Zealand citizen or Resident Permit holder
An Australian citizen travelling on an Australian passport
An Australian resident with a current Australian resident return visa
If you are a citizen of a country which has a visa waiver agreement with New Zealand. Currently travellers from more than 50 countries do not require a Visitor's Visa for stays less than three months.
Visitor's Visa Applications
If your country is not on the visa waiver list or you wish to stay longer than three months you will need to apply for a Visitor's Visa. For more information go to Visitor's Visas and Permits. You can download application forms from the New Zealand Immigration Service website, or contact your nearest New Zealand Embassy.

| Time zone | Getting here | Passport to NZ | Money matters | Electricity | Medical and emergency | Road Rules | Petrol | Tipping | Back to the top |
---
Money matters
New Zealand's unit of currency is the New Zealand dollar (NZ$). Coins have values of 5, 10, 20 and 50 cents, $1 and $2; notes have values of $5, $10, $20, $50 and $100. Click here for the currency converter: http://www.xe.net/
The currencies of Australia, the UK, USA, Canada, Germany and Japan are all easily changed in New Zealand. You will have no trouble with the major travellers' cheques and credit cards. Banks will give cash advances on Visa and MasterCard, but for American Express card transactions you must go to an American Express office.
Banking
Banks are open from 9.30am to 4.30pm Monday to Friday.
Automated Teller Machines (ATMs) are widely available at the airports, banks, along main shopping streets and in malls. International credit cards and ATM cards will work as long as they have a four-digit PIN encoded. Check with your bank before leaving home.
Goods and Services Tax
All goods and services are subject to a 12.5 percent Goods and Services Tax (GST) included in the displayed price. Visitors cannot claim this tax back, however when a supplier ships a major purchase to a visitor's home address the GST will not be charged.

| Time zone | Getting here | Passport to NZ | Money matters | Electricity | Medical and emergency | Road Rules | Petrol | Tipping | Back to the top |
---
Electricity
Electricity is supplied throughout New Zealand at 240V AC via a slant 3 pin outlet. Hotels often provide a 110V socket for electric shavers only. For all other equipment, an adaptor and a voltage converter are necessary.

| Time zone | Getting here | Passport to NZ | Money matters | Electricity | Medical and emergency | Road Rules | Petrol | Tipping | Back to the top |
---
Medical and Emergency Facilities
Medical and emergency services are available but not free to visitors. Please arrange for insurance coverage before your departure. Comprehensive travel insurance is recommended.

Dunedin hospital, doctors (including 24hrs service) and nearby pharmacies can be found on the downloadable map of Dunedin (to be added).

Emergency: dial 111.

Urgent Doctors, 95 Hanover Street, Phone: 479 2900
Hours: open 24hrs

Urgent Pharmacy, 95 Hanover Street, Phone: 477 6344
Hours: Monday - Friday 18:00 - 22:00, weekends & public holidays 10:00 - 22:00


| Time zone | Getting here | Passport to NZ | Money matters | Electricity | Medical and emergency | Road Rules | Petrol | Tipping | Back to the top |
---
Road Rules
Car travel is recommended as the roads are good and well signposted and the distances short. Roads are free of congestion, although sometimes narrow and winding. While the majority of main roads are sealed, most back country roads have a gravel surface. Rentals of cars, motorcycles and campervans are popular with a range of special deals available.

New Zealand road rules follow international standards. New Zealand drives on the left side of the road (the same as in the UK and Japan, and opposite to the USA and Europe). Maximum speed limits in towns and cities are 50 km/h (30mph) and 100 km/h (60mph) on the open road, unless signs indicate alternative speeds. Speed cameras are operating throughout New Zealand.

Strict drink-driving laws apply, with random breath testing carried out at any time. Please note that all insurance is invalid if the driver of the vehicle exceeds the legal alcohol limit (currently 0.8gm alcohol per litre of blood).

Seatbelts must be worn by ALL occupants of the vehicle at all times. By law all children under five years of age must use an infant or child car seat. Car seats are available for hire from car companies.

Drivers License/Minimum Driver's Age
All drivers must be 21 years old over and hold a current non-probationary drivers license (with an English translation shown on the license) from their home country. If the customer presents an international drivers permit, this must be accompanied with their home country licence. There is no charge for additional drivers or any young drivers surcharges. There is no maximum age for hiring a car in New Zealand.

| Time zone | Getting here | Passport to NZ | Money matters | Electricity | Medical and emergency | Road Rules | Petrol | Tipping | Back to the top |
---
Petrol (Gasoline)
Averages between NZ$1.20 and NZ$1.30, diesel NZ$1.00 per litre throughout New Zealand. All cars run on unleaded petrol, while most of the 4-WD vehicles and minibuses and campervans have a diesel engine.

| Time zone | Getting here | Passport to NZ | Money matters | Electricity | Medical and emergency | Road Rules | Petrol | Tipping | Back to the top |
---
Tipping
New Zealanders do not depend on tips for their income and tips are not expected for normal service, however tipping is becoming more widespread in New Zealand, principally in the major centres where there's been more foreign influence. You should tip 5-10% of the bill in a restaurant (not in a simple cafe) if you feel you have received exceptional service.

| Time zone | Getting here | Passport to NZ | Money matters | Electricity | Medical and emergency | Road Rules | Petrol | Tipping | Back to the top |
---